NUNSENSE
Sept. 16 - Oct. 8

BIG BAD VOODOO DADDY
Labor Day, Sept. 5
FALL 2016 ARTS EDUCATION
Registration for drama, art, music and dance open now
Donate now!
Your change can change lives! Please consider making a donation to SCERA, a non-profit charitable 501(c)(3) arts organization. Your donation is tax-deductible.

donate
FIRESIDE
Free fireside with Inspirational music and messages from DALLYN VAIL BAYLES on Sunday, September 4.
LET'S BE INSPIRED
GIFT CARDS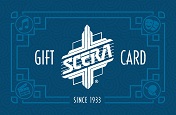 SCERA gift cards can be used for movie, play and concert tickets, season tickets, concessions, tuition, rentals and more!
LET'S SHOP
PUPPET SHOW
Dal Pals Rigmarole presents the funny puppet show "Magic Beans" about Beanstalk Jack's many adventures!
LET'S LAUGH AT JACK