ALICE IN WONDERLAND
February 6-24

HIDDEN FIGURES
January 13-26
WINTER 2017 ARTS EDUCATION
Registration for drama, art, music opens November 1
Donate now!
Your change can change lives! Please consider making a donation to SCERA, a non-profit charitable 501(c)(3) arts organization. Your donation is tax-deductible.

donate
BIG BAND
Vocalist David Osmond and bandleader Caleb Chapman present American standards on January 28.
LET'S GET JAZZY
GIFT CARDS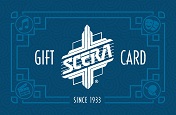 SCERA gift cards can be used for movie, play and concert tickets, season tickets, concessions, tuition, rentals and more!
LET'S SHOP
OLD MOVIES
Tuesday morning movies on the big screen featuring film favorites from decades past for just $2/person.
LET'S BLAST TO THE PAST